Welcome to Hurlford Church website. We are a community church serving the parishioners of Hurlford and Crookedholm. All are welcome in our homely church. We now have a Minister Elect, Revd Ada Macleod and are pleased to announce her Induction is set for Thursday the 7th of June at 7 pm. Please note that Presbyters have to meet at 6:45 p.m.
We look forward  to all that Ada will share with us in her new Ministry.  Photo courtesy of the Daily Record.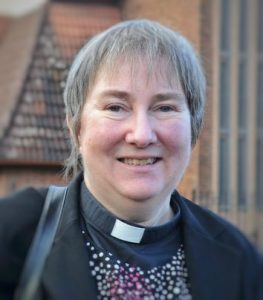 The Church building was erected in 1857. Formerly known as Reid Memorial Church, a union with nearby Hurlford Kirk took place in 1995. The new church is known as Hurlford Church. Since then the united congregations have integrated well. Many visitors have commented on our friendly welcome.
The  Pipe Organ is two manual Forster & Andrews pipe organ built in 1878, and it was transferred from Hurlford Kirk at the Union. Currently there is a rota of four organists covering Sunday worship, and additional services.
Mission Statement
Our aim is to worship God together
Encourage personal faith and Prayer
Spread the good news and care for others
As part of the world wide Church of the Lord Jesus Christ