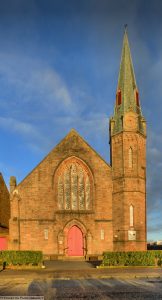 Our church is in the parish of Hurlford, situated in East Ayrshire. We are three miles from Kilmarnock with good road links to the M77 to Glasgow and the A71 towards Edinburgh or the Ayrshire coast. The twin villages of Crookedholm and Hurlford are friendly places with an industrial legacy of mining and metal forging.  The villages are surrounded by farmland in the  Irvine Valley. There are lovely walks nearby. Though we have an industrial past we are now mainly  commuter villages.  We have a primary school in the villages with an academy in Galston and three academies in Kilmarnock. Hurlford and Crookedholm have local shops.
After twenty years service, our Minister, Revd James McCulloch retired in April 2016, and  we were  extremely lucky in having Revd Dr Samuel Hosain Lamarti as our Locum Minister for over a year during the vacancy.  Sam moved on to be Locum at Darvel Parish Church and we were blessed to have a new Minister, Revd Ada V  MacLeod take up her charge on 7th June 2018. 
Ada, Calum and the family  moved into the Manse and it gave us great joy to have a Manse family there once more.  Sadly, Ada's tenure was all too brief as she passed away on 14th of March 2020.  We only had Ada as our Minister for 18 months, far less time than we had all hoped for, but we have so many happy memories of her Ministry.  Our prayers extend to Calum and the family.
We now have another Locum Minister, the Reverend Willie Hall, and another Interim Moderator, the Reverend Colin Brockie. We look now to the future, in these uncertain, difficult times, in the hope that God knows our way forward and it is in times like these that the Church and Church family have never been more important. Unfortunately, we are now in a situation where all churches are closed to congregations. We hold true to the Word and Deeds of the Lord and know that soon we will reunite as a congregation in our Church, Blessed be the Lord! Amen!