We are very lucky in our area to have leisure pursuits that would suit anyone. Below are some examples:
Dean Castle country park is nearby. A stunning park with great walks and the Castle itself, which recently featured as a location for Outlander.
The Galleon Centre in Kilmarnock has swimming pools, an ice rink, indoor bowling and gymnasiums.
There are good public and private golf courses in the area including Loudoun Gowf Club, the only "Gowf" club in the world.
There is a nine screen multiplex cinema in nearby Kilmarnock.
There is a Sport and Leisure Complex at Loudoun Academy in Galston.
The Ayrshire Athletics Arena in Kilmarnock is a fabulous all weather complex. Much loved and used by sportspeople from all over Ayrshire.
Kilmarnock has a big connection to Robert Burns as his first book of poetry " The Kilmarnock  Edition" was printed there.
The Burns Monument Centre in Kay Park is devoted to Robert Burns and is also a genealogy centre.
Hurlford has four takeaway food outlets and a Chinese restaurant. There is also a MacDonald's Drive Through just outside the village.
Kilmarnock has some fine restaurants and good dining is assured.
The Irvine Valley Paths network starts a stones throw from the church following the River Irvine.
There is fine salmon fishing on the River Irvine.
There are other historic castles nearby including Dundonald Castle and Culzean Castle. There is also Craufurdland Castle which has a Mud Run and Rowallan Castle which has a golf course and restaurant.
Hurlford has a good compliment of shops and many more can be found in Kilmarnock, two miles away.
The coast is only 10 miles away with beaches in Ayr, Troon and Irvine.
The largest Windfarm in Europe, Whitelee is near, with a visitors centre and restaurant. There are some fine walks.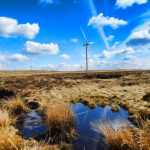 All in all there are many things to do within the Irvine Valley and Kilmarnock area. Mauchline is nearby with many Robert Burns connections and every May the Mauchline Holy Fair is well worth a visit. The village of Tarbolton has the famous Batchelors Club Museum. Robert Burns was a member of the club. In Ayr, about 15 miles away there is the Tam o'Shanter museum and in Alloway, Burn's Cottage, Burn's Birthplace Museum. and the Auld Kirk, focus of the famous Burns Poem.
Come and enjoy the lovely Ayrshire countryside. Tarry for a while on the path beside the River Irvine at the Bishop's near Crookedholm.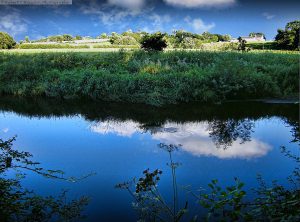 Visit nearby Loudoun Hill. a volcanic outcrop with fine views over the Irvine Valley.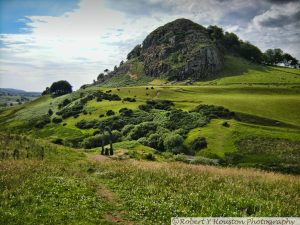 The view down the Irvine Valley from Loudoun Hill near the site of a Covenanting battle at Drumclog.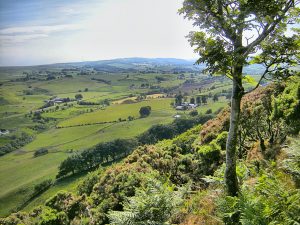 You will not regret it. Ayshire is a lovely shire to visit, to live in, to grow up in. With fine road links to Glasgow, only 25 miles away. Come a'while and bide a'while.  You will be made most welcome.